Moving over-gauge shipments worldwide is one of their areas of expertise. Their experts manage & complete comprehensive door-to-door shipping projects. One of them included moving a 135-ton tank from China to Poland for one of their VIP clients.
Project Details:
Tank dimensions: 35 x 5.5 x 5 meters.
Tank weight: 135 tons.
Route : China main port – German port – barge transport from Germany to Poland, Opole river port – inland houlage to final destination in South of Poland.
180 road signs have been de-installed and 30 traffic light systems have been raised on the way.
A skidding operation involved lowering the tank and transferring it to the other side of the bridge using special rails and hydraulic actuators.
Road under the bridge had to be dug under to lower its surface by 60 cm.
Their scope of work include moving a tank which was a part of a steel mill industrail gases delivery system, loading the tank onto a ship in China, shipping by sea to Hamburg in Germany, Transshipment in the port of Hamburg in Germany, shipping by barge to Opole, Transshipment in Opole and mobing by road to Cracow.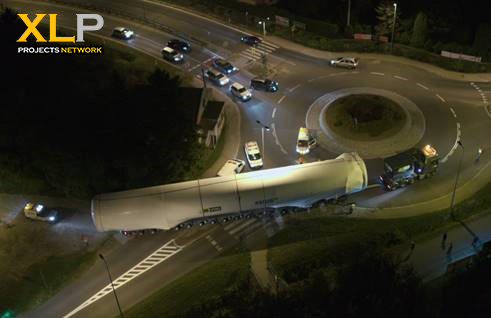 Would you like to see what our members are currently up to?
Follow us and engage with us on:
LinkedIn: https://www.linkedin.com/company/xlprojects-network-xlp/
Facebook: https://www.facebook.com/XLProjectsNetwork/
Twitter: https://twitter.com/XLPNetwork
Instagram: https://www.instagram.com/xlprojectslogisticsnetwork/