A total of 50 packages fabricated by two of Megalift's clients were scheduled to ship on board the same vessel sailing from Port Klang to Egypt. They were both supplying for an oil and gas project in Egypt. The items included Purge Gas Drum, pressure vessels, platforms and tanks of various sizes. Most of them were transported from the fabrication yard to the port. The largest unit Purge Gas Drum was rolled onto a barge for a double banking loading operation alongside the mother vessel.
While road transportation from the fabrication yard to the port was rather straightforward, the arrangements for the barging were not as smooth. It happened to be the rainy season in Malaysia and almost every day it was pouring heavily. Their team had difficulty setting up the barge and positioning the barge against the jetty of the fabrication yard. Due to high current flow in the river, for safety reasons we engaged two tugboats to assist in turning the barge to its Mediterranean mooring position and to moor to the bollard.
They were afraid the delays in rolling in and barging would affect the loading into the mother. Their team ensured timely coordination between the shipping agent and barging team for the cargoes to berth alongside the mother vessel in Port Klang. Thankfully weather turned slightly better for the RORO operation and the barge arrived in time for the double banking.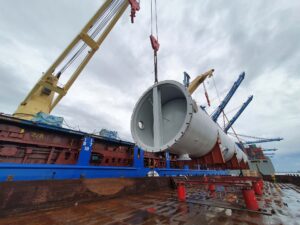 Cargo: Purge Gas Drum
Dimension: L34.10 m x W4.61 m x H4.93 m
Weight: 66 ton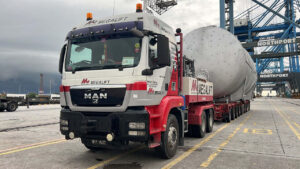 Cargo: Pressure Vessel
Dimension: L16.46 m x W4.86 m x H5.61 m
Weight: 42 ton