Khimji Ramdas deliver air cooled heat exchangers and accessories for Yibal Khuff Project
Khimji Ramdas Shipping has successfully handled the entire logistics in Oman for delivering cargo of Air Cooled Heat exchangers and its accessories, to Yibal Khuff Project site in the central Oman Oil field area.
Khimji Ramdas faced many challenges incusing the sheer volume of the cargo and the deadline to finish the collection within the Demurrage free 30 calendar days as well as the varied cargo dimensions.
Project details:
Cargo type: Air cooled heat exchanger units with accessories
Load Port: Busan, South Korea
Discharge Port: Duqm, Central Oman
Final Place of Delivery: Yibal Khuff Project site, Oman (585 km away from Duqm Port)
Volume: 11301 cbm
Number of packages: 806
The entire gamut of activities included:
Acting as vessel agents for calling the cargo carrying vessel, MV Pacific Winter, to Duqm port.
Supervision of the cargo discharge from the vessel.
Shore handling of the cargo including storage.
Receiving the cargo and loading onto the trucks.
Delivering to Yibal Khuff Project with all strict safety standards in purview.
The total freight comprised of 806 packages, weighing a total of 2707 ton and a volume of 11,301 cbm.
The type of cargo comprised of:
-Tube Bundles.
-Skids with Structures, driving units, main frames, Stair, Lifting devices and walkway frames.
-Plywood and wooden boxes – with or without tarpaulin cover.
The entire receipt of the cargo at the port and dispatch to the site had to be completed within 30 calendar days. This was in spite of the offloading site having a restriction of receiving only 11-12 trucks a day for offloading due to the scarcity of resources and no loading of cargo taking place on the weekly off Fridays.
The main challenge was to complete the entire delivery with a varied fleet comprising of:
-Normal 12 meter flat beds.
-Normal 70 ton – 12 meter low beds.
-100 ton 15 meter low beds.
-18 meter flat beds.
Khimji Ramdas shipping took up the challenge and successfully completed the entire project within 28 calendar days (22 working days) of the cargo discharge, thus summing up to a considerable saving for the client. The entire delivery schedule consisted of 315 truck trips covering 275 man days of work.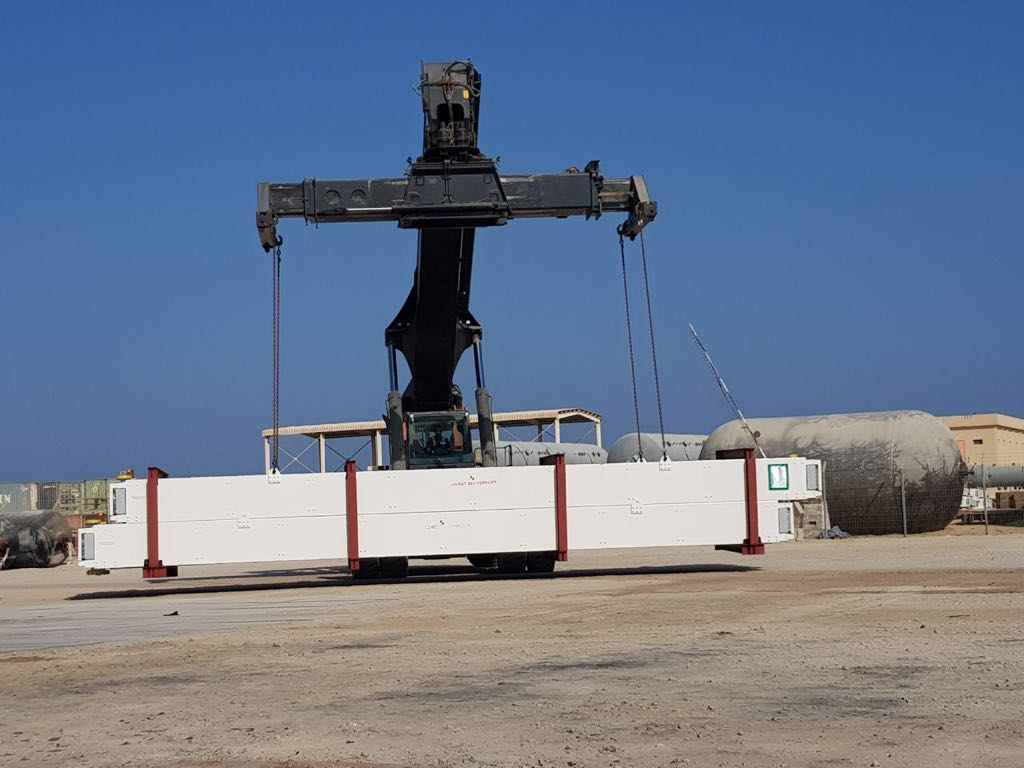 ]