Intermodal Logistics concluded a project which was the shipment of two complete sets of generators and its accessories for Super Dorhi Hydropower Company in Nepal. The cargo was shipped from the port of Bilbao, Spain to Kolkata Port, with inland delivery of the containers to Birjung Customs office located at the India-Nepal border. Nepalaya Logistics, who handle the arrival and delivery at destination. The project required mobilization of Nepalaya Logistics to India-Nepal boundary for the supervision of offloading operations.
There were two sets of shipment, the first set one consisted of two stators each weighed 45,000 kgs with dimension of 5.65 x 2.83 x 3.06 meters. There were also two rotors which weighed 46,800 kgs with dimension of 5.43 x 4.68 x 3.45 meters. This shipment was handled from Bilbao to Antwerp on Ro-Ro vessel. Once it arrived in Antwerp, Intermodal Forwarding arranged the shifting from arrival to exit terminal by river barge and loaded the units on Breakbulk vessel to Kolkata.
The second set of shipment consisted of accessories on one 40FR OOG and two 40' HC. This shipment was loaded in Bilbao on container vessel to Kolkata.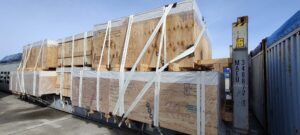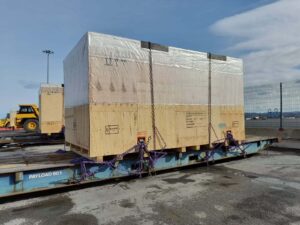 Once the cargo reached Kolkata, Nepalaya Logistics took the delivery on hook and then the pieces where loaded on special low bed trailers. Due to the dimension of the cargo, they had to request to open the toll gates of the road between Kolkata to the Nepal border. At the border, they offloaded the pieces on specially designed low bed trailers made for taking heavy weight (OOG) cargos through the difficult Himalayan roads. Due to road conditions and the nature of the cargo, at various places, Nepalaya Logistics had to pull the trailers from the front with an excavator and push the cargofrom behind with a second excavator. The roads condition were so poor and the width was less than the cargo width so wheel loaders and excavators where deployed simultaneously in order to construct the road and move the cargo simultaneously.
Nepalaya Logistics had a deadline to move the cargo before the monsoon starts so everyone involved were working under time pressure. If anything was delayed, the cargo would have stayed at a warehouse on the border for over four months, which was when the rainy season was expected to be over.