EGL Oversee Steel Beams Shipment to the River Nile
On 27th February 2019, Egyptian Global Logistics (EGL), subsidiary of KADMAR GROUP, completed transportation of steel beams for El-Wasta bridge over the Nile river using Goldhofer 12 axle lines turntable.
The transportation wasn't easy due to several challenges followed:
The weight of the beams was not balanced in width, with the left side weighting 58 tons, and the right side, 35 tons, and with cross girders of 4.50 m between them.
In the assembly area, loading was performed using 2 cranes with a lifting capacity of 300 tons each, which required performing critical maneuvers for loading by using a 6 by 6 turntable.
To reach the installation position on the bridge, one of the cranes with a load capacity of 650 tons was used.
EGL project team achieved this success through careful planning and continued to impress the market with the well-trained staff along with the use of latest fleet equipment and technology in Egypt.
Project Details:
EGL scope of work: Delivery of 6 pieces of steel beams to the east and west banks of the Nile
Locations: AL Wasta, Beni Suef
Client: Nile Company for Roads and Bridges
Beam dimensions and weight: 47.0 m (L) x 5.9 m (W) x 6.75 m (H)/ 110 tons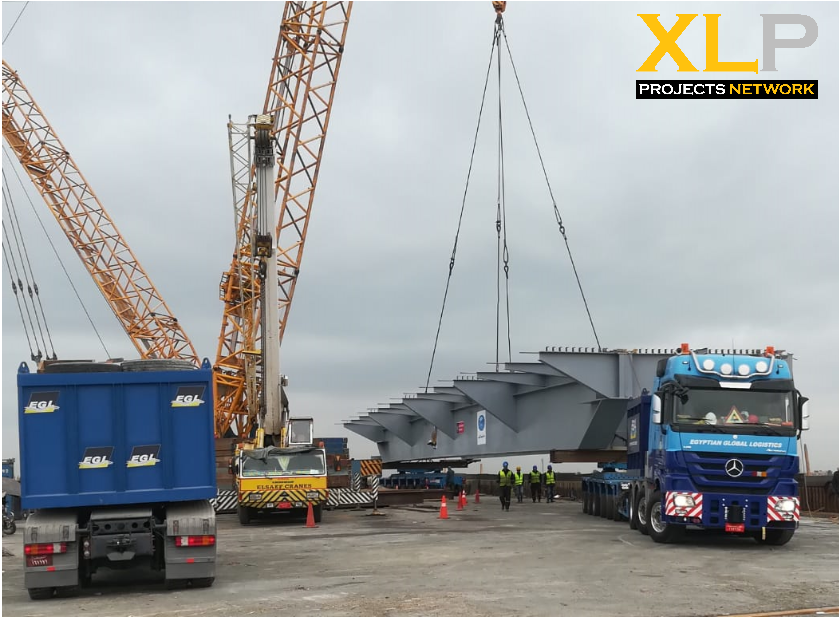 Would you like to see what our members are currently up to?
Follow us and engage with us on:
LinkedIn
Facebook
Twitter
Instagram
About XLProjects (XLP):
Since October of 2012 the XLProjects Network (XLP) has taken the independent project forwarding and chartering industry by a storm. Some of the best known project logistics companies in the world have been joining XLProjects and making business with one another.
XLProjects members by and large are proud of their relationship to our project logistics network because we allow only qualified members yet we get them all over the world. The management of XLProjects as well have been involved in this market on both sides of the project cargo business; from the networking standpoint as well as the project logistics field itself.
All of our XLProject member partners are uniquely qualified in heavy lift handling, breakbulk cargo and project logistics transportation, whether by ocean charter, air charter or overland. XLProjects members are all well known in their home markets and have been involved in some of the highest profile project lifts and movements in the world. And these are precisely the kind of people and companies you would look for in a network like ours.
If you feel your company is qualified for membership and would like to know more about XLProjects please contact us. We are more than happy to follow up!