COLI Shipping & Transport Complete Import of Hot Metal Cars
COLI Shipping & Transport recently had a really challenging shipment – they finished the 2nd step of an import of 2 disassembled Hot Metal Cars (Torpedo Cars) from Columbiana, OH to Itaguaí, RJ. This included two Bottle Vessels with a weight of 75 tons each.
Their customer had sent both units for repairing some years ago. These torpedo cars are used in steel industry to transport hot liquid iron in their facilities.
COLI was responsible for all of the steps in this project, starting with a route survey to check the nearest rail stations to move bottles on a faster and safe way to Houston port. Then they scheduled the pick up of disassembled pieces at supplier's station in Columbiana, arranging the inland transportation of accessories by truck, and a very special operation for the bottles: they had to manufacture the saddles in order to enable the rail transportation up to Houston port for loading into a Break bulk Vessel. At this point several parties were involved and worked together in order to make sure that every security measure would be taken to move these heavy units.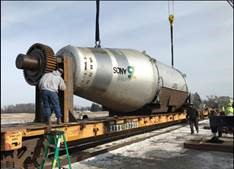 Bottle vessel being loaded and secured on railcar
After arrival at port, COLI's team provided packaging for mechanical parts (such as motors, trucks, panels) to ensure a safe marine transportation.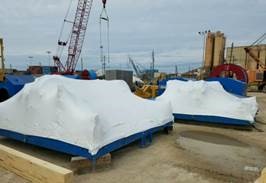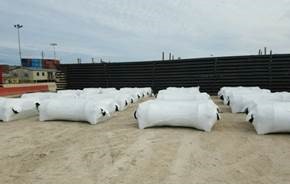 Packaging of Truck assemblies and spanners
COLI were also at the loading/unloading port alongside with their surveys in order to make sure that all handling procedures given by customer would be done accordingly.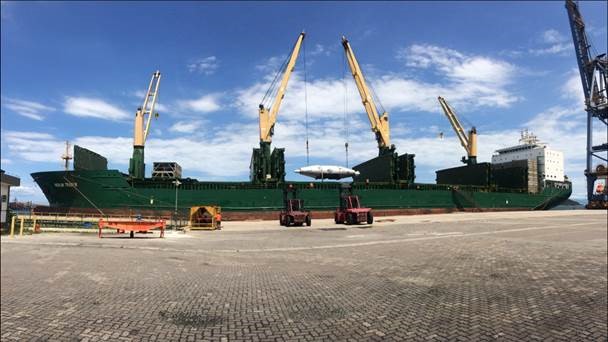 Discharging in Itaguaí.
The customer were really satisfied with COLI services and due to the good work in the import and ocean transportation COLI were nominated as their logistic partner to arrange trucking transportation until their plant and offloading of bottles using gantry cranes.