GE Gas Turbine Project from Dammam to New York by First Global Logistics
General Electric – one of the most important and prestigious clients of project and oversized cargo globally – had launched a bid for a door to port movement from GE plant in Dammam to New York, USA. The FGL Project Team were invited to offer a transport quotation for a scope of work of moving 14 oversized units of gas turbine components and modules. The challenge was that they are located in Egypt and the project was a cross trade for them, but due to the team's project experience and movement in Middle East region and market understanding they successfully secured the project by presenting a feasible loading plan with the minimum cost required, ensuring the safety of valuable cargo in this movement.
Project Description & Loading Plan
FGL used Maersk carrier, the no.1 carrier known for its reliability in all shipping aspects.
Cargo survey was done prior loading to ensure that the loading plan fit for the cargo dimensions and
Total CBM: 842 CBM
Number of unit: 14
Number of trailers used: 13
UOM: 10 x 40'FR OOG, 2 x 40' OT OOG, 1 x 20' GP
Dimensions for 40′ FR container: 9.9 x 2.9 x 2.6 meter (21 tons each)
Dimensions for 40′ OT container: 9.2 x 1.6 x 3.9 meter (11 tons each)
8 low bed and 5 flat bed trailers were sent to GE Plant for cargo loading, the FGL Project Team then unloaded the cargo onto 10 x 40′ FR, 2 x 40′ OT and 1 x 20′ DC, stuffed and lashed at an outsourced warehouse, handling the export clearance formalities for the arranged vessel and delivered the full containers safely to Maersk yard in Dammam port.
The job was accomplished in 5 days since picking up until gating in.
The FGL Project Team was working almost 24 hours for this project due to time difference between KSA and USA with all official correspondences managed in Egypt.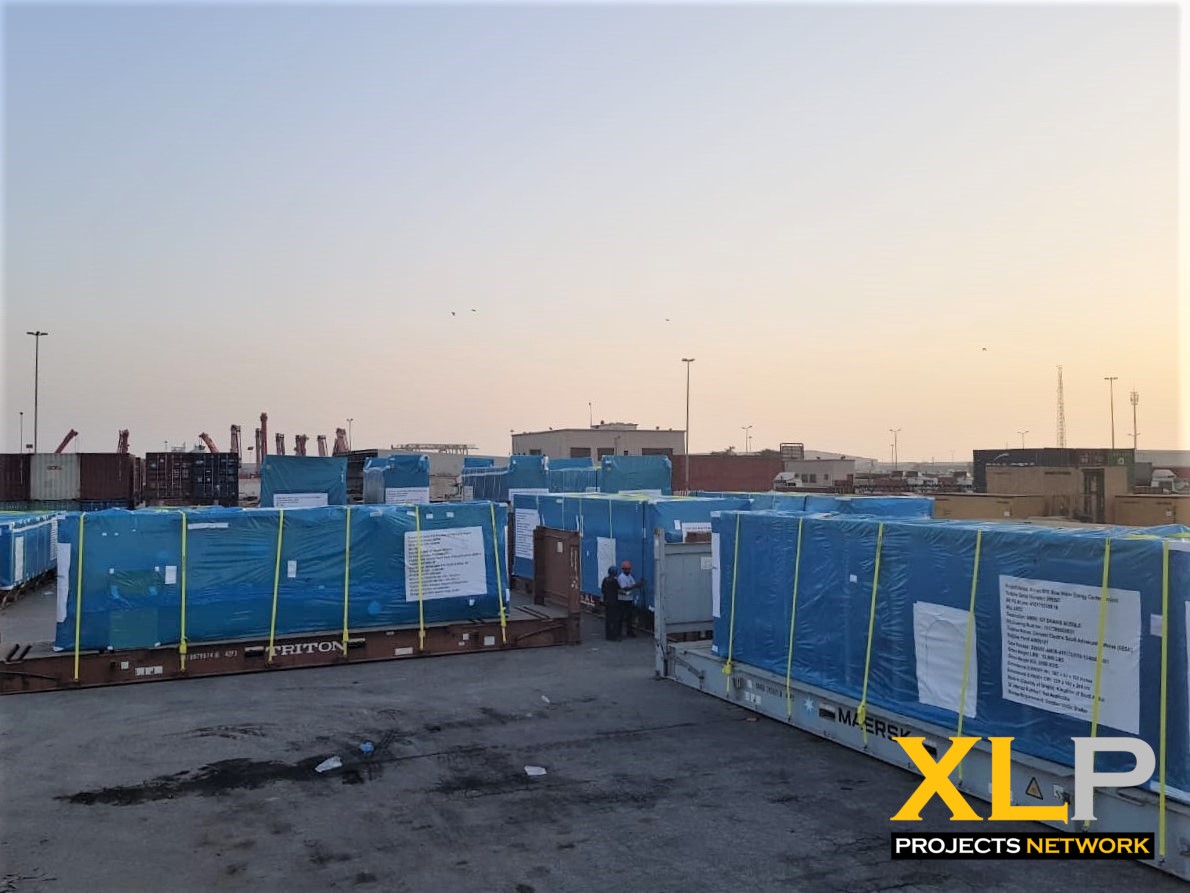 Would you like to see what our members are currently up to?
Follow us and engage with us on:
LinkedIn
Facebook
Twitter
Instagram
About XLProjects (XLP):
Since October of 2012 the XLProjects Network (XLP) has taken the independent project forwarding and chartering industry by a storm. Some of the best known project logistics companies in the world have been joining XLProjects and making business with one another.
XLProjects members by and large are proud of their relationship to our project logistics network because we allow only qualified members yet we get them all over the world. The management of XLProjects as well have been involved in this market on both sides of the project cargo business; from the networking standpoint as well as the project logistics field itself.
All of our XLProject member partners are uniquely qualified in heavy lift handling, breakbulk cargo and project logistics transportation, whether by ocean charter, air charter or overland. XLProjects members are all well known in their home markets and have been involved in some of the highest profile project lifts and movements in the world. And these are precisely the kind of people and companies you would look for in a network like ours.
If you feel your company is qualified for membership and would like to know more about XLProjects please contact us. We are more than happy to follow up!