First Global Logistics Leave Fingerprint on AFCON 2019!
Project introduction:
Earlier in 2019 Egypt was granted the hosting rights of the 2019 African Cup of Nations from 21 June to 19 July. The AFCON organizing committee had promised the world to display Egyptian ability of hosting mega sport event, and the bid went to FGL to import all the opening and closing ceremony equipment and kits from more than 8 countries of origin to Egypt. All the Jobs were door to door service from supplier's origin to Cairo Stadium.
FGL were required to look after all aspects of transportation including packing, crating, trucking, customs clearance, insurance, port handling, air freight, sea freight, stuffing, unstuffing, unloading, reloading and warehousing. And with little time frame given, one week before the Grand Opening, they had to transport goods from every country to Egypt simultaneously.
The project complexity was immense and the number of challenges was countless, but the more complex the more FGL's preferred job. They were awarded for this project based on their excellent planning and commitment to the country's budget.
All cargoes were collected and delivered safely to Cairo stadium. FGL successfully managed the client's expectations and earned the task to send the cargoes back to where they came from.
FGL are delighted to have been part of this incredible project and proud to show the nations a very successful event.
Project details:
Project period: 45 days
Terms of delivery: Door to Door Delivery
Sea Freight volume: 12 x 40'OT IG & OOG
Air Freight volume: 28 tons
Total CBM: 1,100 M3
Cargo type: Opening/ Closing event material, equipment and kits
Carrier used: Maersk, Etihad Airways, Cargo Lux, British Airways
UOM: 12 Flat Bed Trailers and 35 Dedicated Jumbo Trucks (6 meter long)
Services provided:
Packing and crating from origins (USA, Germany, Belgium, UK, UAE, France, Japan)
Sea and air fright
Customs clearance at origin and destination
Port and airport handling
Customs clearance
Pre-carriage and on-carriage
Loading at origin, unloading and stripping at Cairo stadium
Hiring 55 ton crane for OOG containers unloading and forklifts for general cargo
Warehousing
Surveying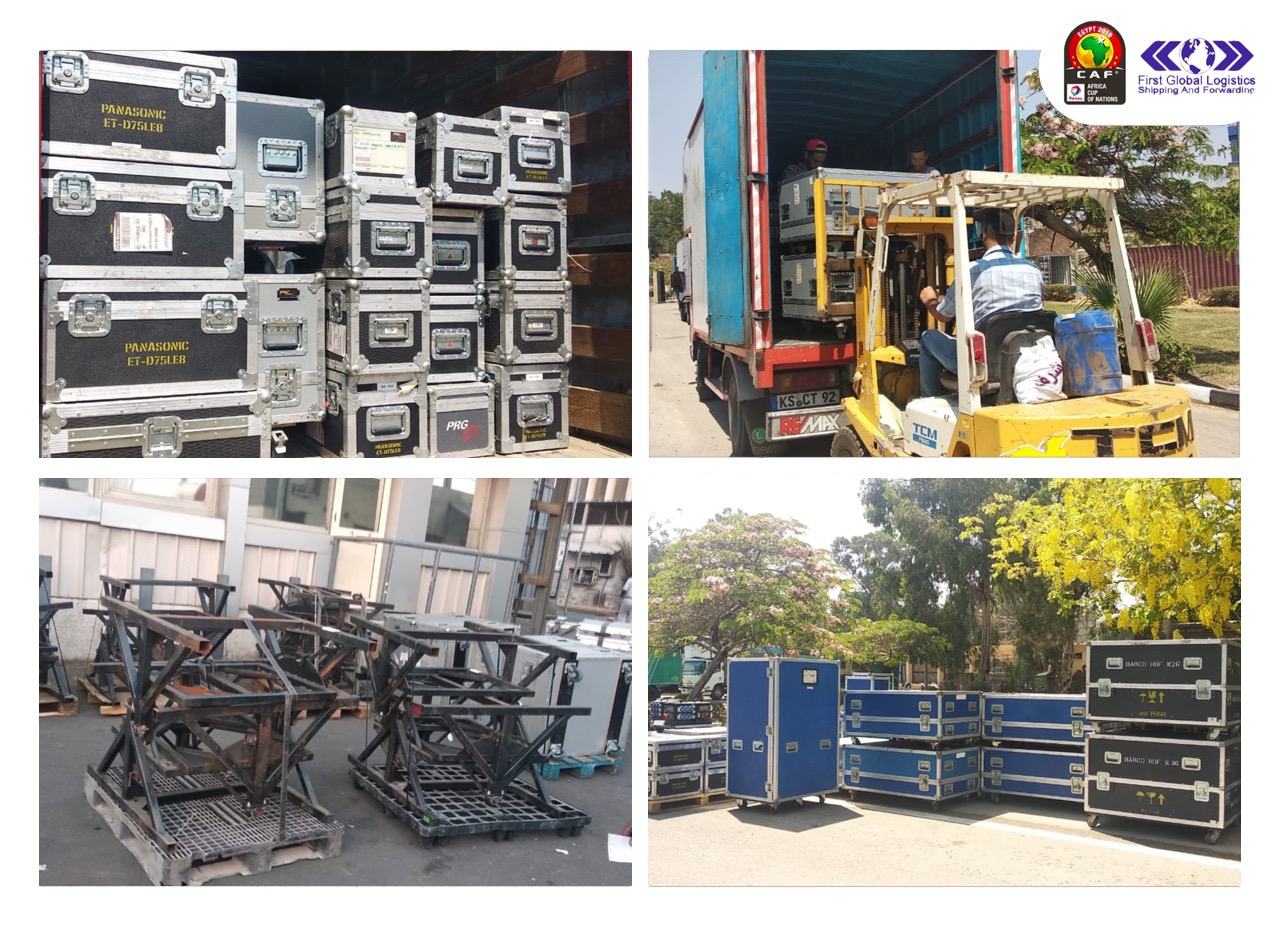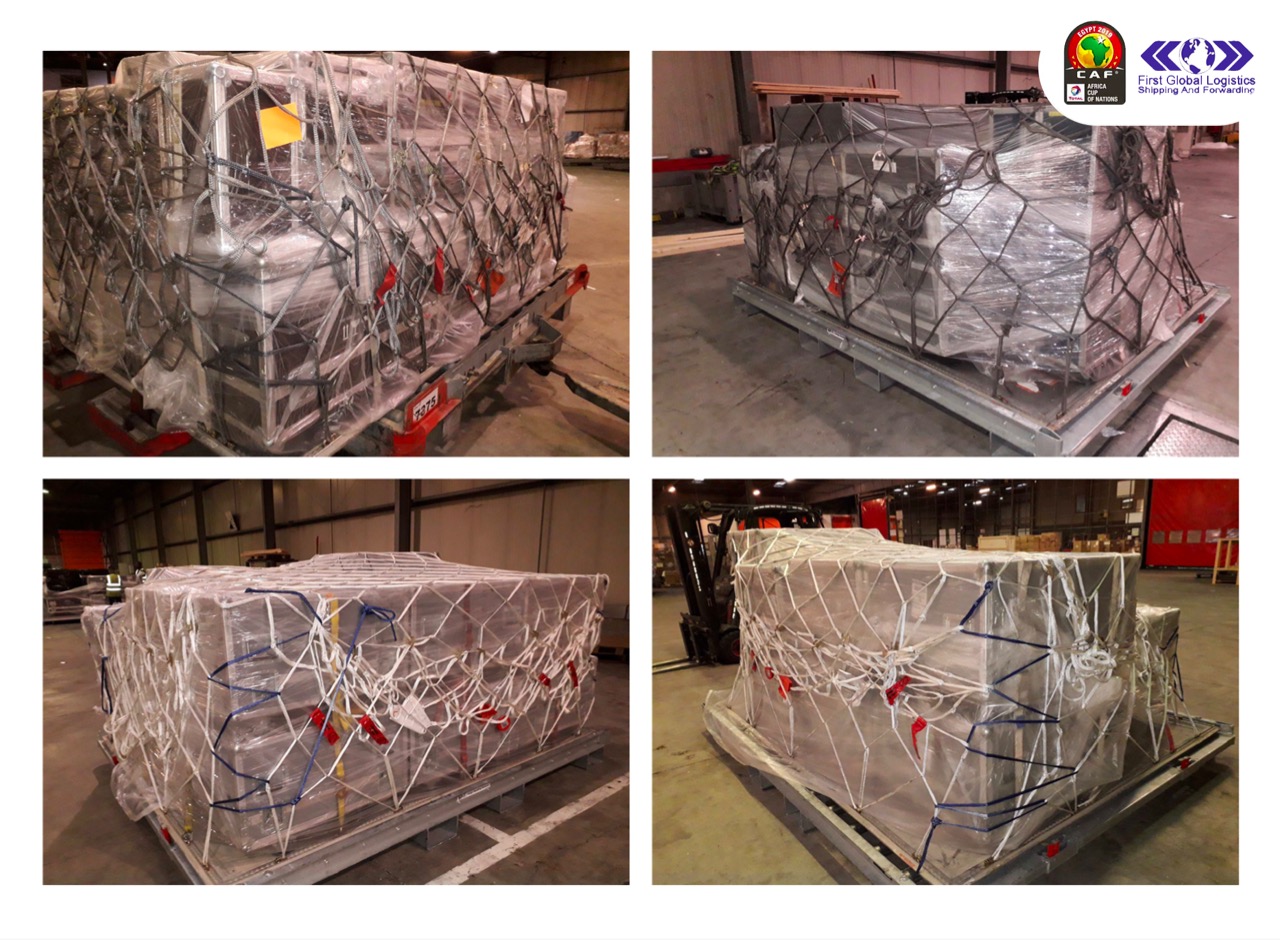 Would you like to see what our members are currently up to?
Follow us and engage with us on:
LinkedIn
Facebook
Twitter
Instagram
About XLProjects (XLP):
Since October of 2012 the XLProjects Network (XLP) has taken the independent project forwarding and chartering industry by a storm. Some of the best known project logistics companies in the world have been joining XLProjects and making business with one another.
XLProjects members by and large are proud of their relationship to our project logistics network because we allow only qualified members yet we get them all over the world. The management of XLProjects as well have been involved in this market on both sides of the project cargo business; from the networking standpoint as well as the project logistics field itself.
All of our XLProject member partners are uniquely qualified in heavy lift handling, breakbulk cargo and project logistics transportation, whether by ocean charter, air charter or overland. XLProjects members are all well known in their home markets and have been involved in some of the highest profile project lifts and movements in the world. And these are precisely the kind of people and companies you would look for in a network like ours.
If you feel your company is qualified for membership and would like to know more about XLProjects please contact us. We are more than happy to follow up!